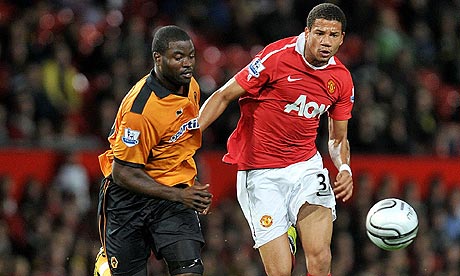 Manchester United 3-2 Wolves (Wolverhampton Wanderers)
Bebe 56' Park 70' Hernandez 90' | Elokobi 60' Forley 76'
It was a wonderful night for Manchester United as they proceed to the Carling Cup Quarterfinals by defeating Wolves. This fixture was already very special since it happened last year too with Danny Welbeck the only scorer. This year, things were slightly different.. United had to fight for the victory and BEN AMOS was in goal rather than Tomasz Kuszczak. Clearly, this wasn't the best efforts from the English goalie.
Late winner: Javier Hernandez
Bebe scored his debut goal in his maiden start for Manchester United. It was a lucky goal to say the least but the lad deserved it after working so hard. He was eventually replaced by the HERO ONCE AGAIN - Javier Hernandez aka Chicharito who scored his 2nd goal in Carling Cup in the 90th minute. Elokobi's controversial Pole dancing celebration near the Manchester United corner flagpost may as well cost the full back a lot.
Kissing the United badge.
Chicharito spared United the misery of Extra Time by coming off the bench and scoring the late winner - something Chicharito is very accustomed to do.
This was Chicharito's 3rd goal in 3 games for Manchester United and his 4th goal in the final quarter. Hence, Chicharito is already a BIG impact at Manchester United.
Before Chicharito arrived, Bebe good. His crossing and sprinting ability has improved a lot since we last saw him against Scunthorpe (Scunny)
Both Bebe and Chicharito scored - Bebe thoroughly deserved it.
Joyous Park
Ji Sung Park or shall I say G Park scored the 2nd goal for United. What a tireless midfielder he is.
It was an eventless 1st half for United and Wolves. But Second Half saw 5 thundering goals out of which Chicharito's late strike maybe the BEST and the most Pivotal.
That was it from Carling Cup. Join us for the crucial Premier League home game against Tottenham Hotspurs. Hopefully United 's previous two victories including the away one to Stoke City will charge United and transform them into Winning Machines. (Thanks to Chicharito for two memorable goals.)
VIDEO: Chicharito's 90th minute goal vs Wolves 10/26/2010
Chicharito's backHEAD goal against Stoke City, 24/10/2010
Chicharito's 85th minute goal against Valencia, Champions League 29/09/2010